If advertising as we know it is truly dead, what's next for paid, earned & owned media?
This week for the Cision World Tour NYC, we crowded into a packed house full of orange seats to hear from some of the top media industry influencers the Big Apple had to offer. While the event covered a wide range of topics, one common theme was the shifting balance of the marketing mix between paid, earned and owned media. This theme was punctuated by keynote speaker James McQuivey, VP and principal analyst servicing CMOs at Forrester.
He presented a recent study Forrester published that had a shocking conclusion. The study, The End of Advertising As We Know It, warned marketers that billions of dollars were going to be moved out of traditional advertising in 2017. McQuivey even joked that one company scooped Forrester on this story by announcing they would do just that before they even had a chance to release the report.
If Forrester (one of the most influential research and advisory firms in the world) is right, what does that mean for the future earned, owned and paid media? Read on for a recap of the event that answers the question.
Earned Media will Require Attribution
Global Chief Marketing Officer at Mercer, Jeanniey Mullen, had a lot of insight on what makes a story catch fire. The formula she says communicators should focus on is Authentic, Inspirational and Relatable or A.I.R. While this applies to any type of media, authenticity is especially important to earned media – as it is the most trusted out of paid, earned and owned.
This is a point Cision's CEO Kevin Akeroyd highlighted in talking about the 'media paradox.' Despite being the most trusted form of media marketing has available, it consistently shows the slowest growth as an industry and receives a sliver of the budget other marketing facets do. Why is this? As a veteran of the marketing industry, Akeroyd argues that it is all about attribution. Once earned media can attribute value the way paid advertising and owned content does, then communicators will be in a prime position to pick up the billions of dollars being reallocated within the marketing mix.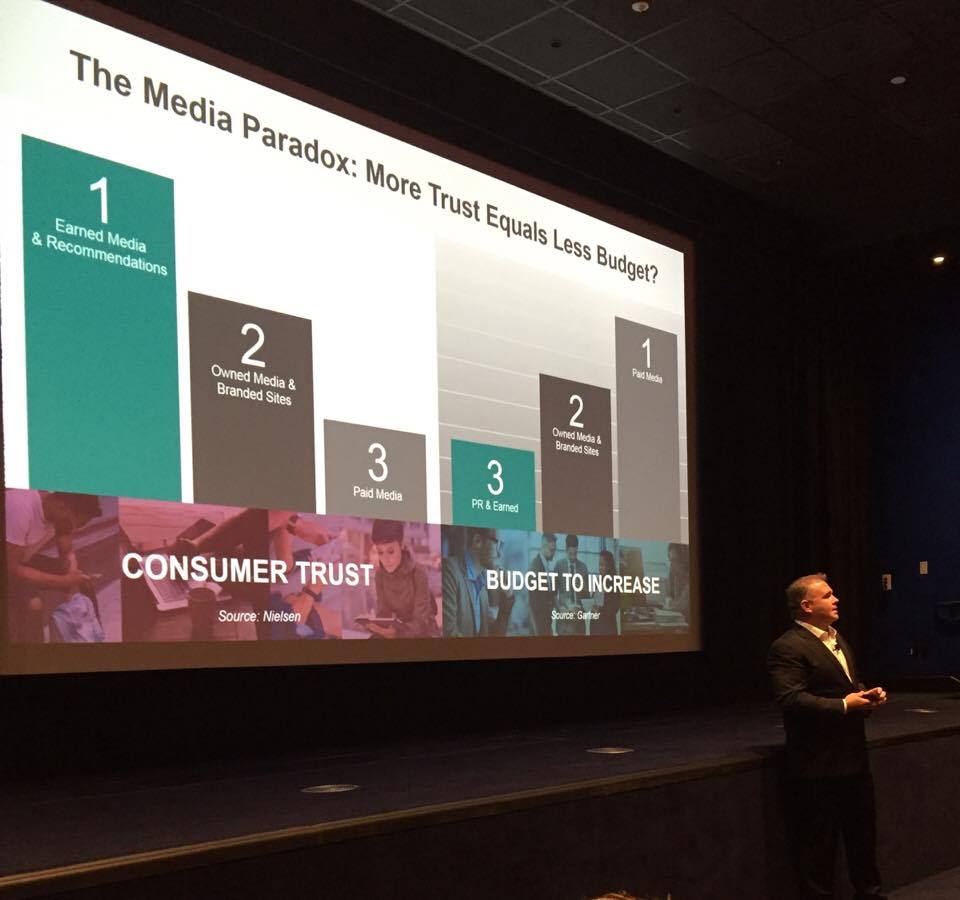 Owned Media Requires Great Storytelling
One of the best cases for owned media, in a world where every brand is creating more content, came from Managing Director of Consumer Marketing at Edelman, Stephanie Smirnov. She shared a succinct, show-stopping line on SEO that left many stunned — "Algorithms are the new editor-in-chief."
Editor-in-Chief of CMO.com, Tim Moran, had a unique perspective on what owned media needs to do moving forward. His advice to content marketers was to focus on authenticity above all else. No one wants to read a blog post that just raves about how great a product is. They want to read what helps them in their day to day life, what interests them and draws them into a story. Focus on insights you are uniquely situated to supply given your role in that industry.
Cision's own CMO, Chris Lynch, echoed this idea when he talked about data-driven storytelling. Lynch advised marketers to look at the core elements of a good story first. Each of these elements, outlined in the slide below, can be enhanced by data you likely have at your finger tips through social media, media analysis or marketing data.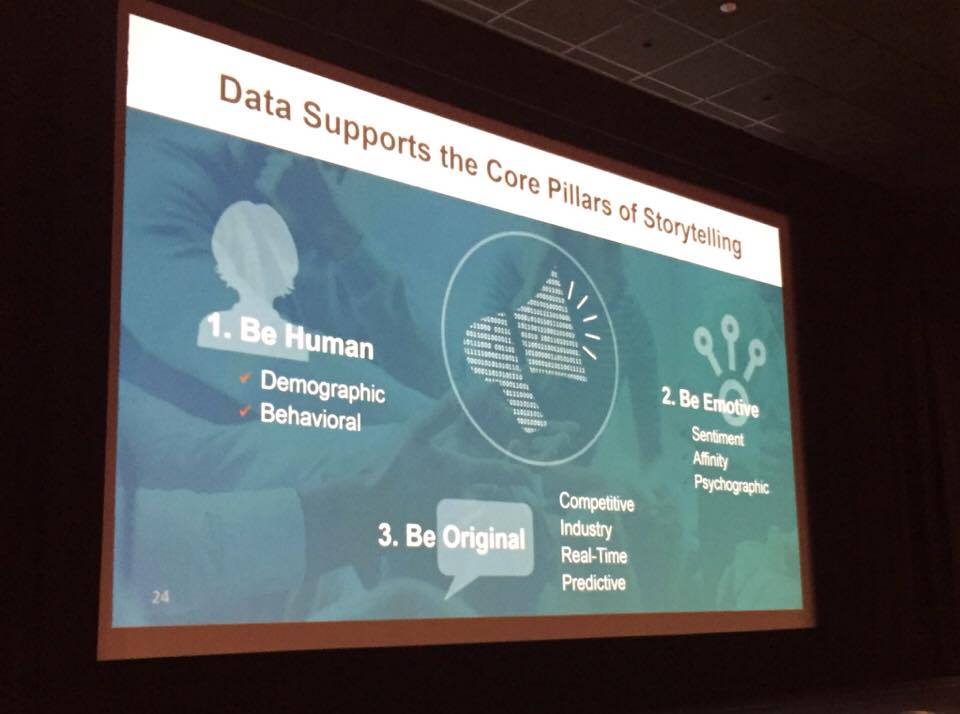 Paid Media Will See Big Changes
While McQuivey and his friends at Forrester started us down this conversation on the death of advertising as we know it, he did come back to the 'as we know it' part to clarify. Advertising can and will continue. However, we are going to see some big changes. The biggest change, McQuivey argues, will be a pivot to storytelling and relationship building — something earned media professionals have been doing forever.
While people continue to tune out advertisements, download ad blockers and avoid banner ads at all costs, they are connecting with more stories and watching more video than ever online. McQuivey believes that the amount of information overload on the internet today provides advertisers the chance to stand out from all the noise and connect on a deeper level through better storytelling. He backed these claims up with a mind-blowing knowledge of neuroscience, which I am not remotely qualified to try to articulate.
I will share this one slide that sums up the key takeaway for marketers. There are three ways to get around the brain's natural aversion to advertising. Touch, video and storytelling. Joking, McQuivey advised marketers to focus on video and storytelling, as touching all of your customers did not seem feasible.