Cision Communications Cloud® delivers the most comprehensive influencer and media database for communicators. Identify where your content can hold the most value and impact to customer behavior to create compelling campaigns.
BUILD RELATIONSHIPS WITH INFLUENCERS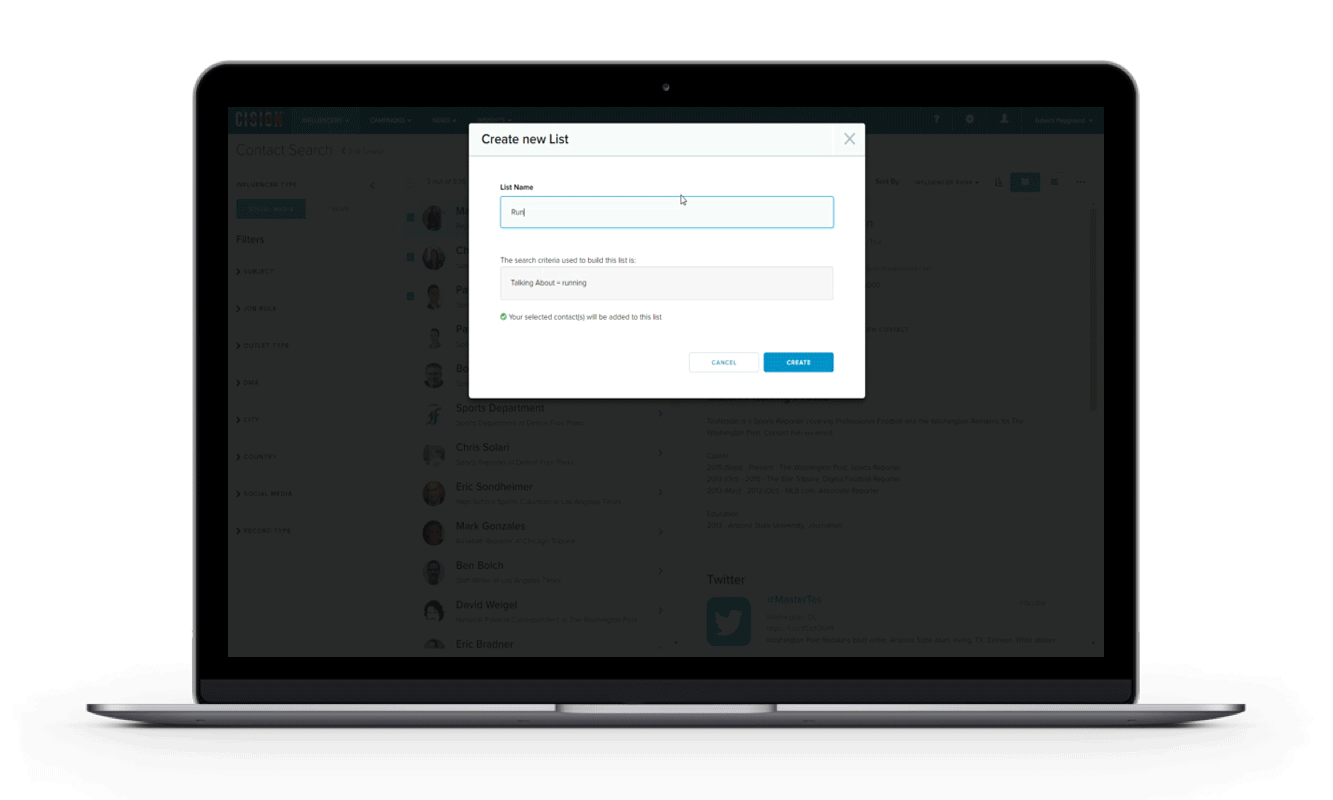 Build Relationships with Influencers
Influencers & Opportunities
– Top Tier Publications (New York Times, Wall Street Journal, CNN, BuzzFeed & More).
– Non-Traditional Contacts and Outlets (Social Influencers, Analysts, Research Firms).
– Editorial Calendars (Planned Industry & Topical Coverage).
Premium Information
– Pitching Tips & Direct Quotes.
– Biographical Information.
– Direct Outlet/Contact Information. (Address, URL, Email, Phone/Fax).
– Social Channels (Twitter, LinkedIn, Facebook, Instagram, YouTube, Pinterest, Google+ and more).
LEARN MORE
REQUEST DEMO
IMPROVE IMPACT & RELEVANCY
Improve Impact & Relevancy
Audience Insights: Brands, beats, demographics and geographic reach for contacts on Twitter.
"Talking About" searches against social and news, offers real-time results and additional insights – find out if their audience meets your brand's needs.
Influencer Graph
– See the top 500 contacts making the most impact for any topic(s) and how they rank over time.
– Identify who is peaking, falling or trending steadily with audiences.
"You Might Also Like" & "Recommended Additions"
– Contacts with the same audience or coverage, for saved lists and searched contacts.
Learn More
Request Demo
ESTABLISH CREDIBILITY
Establish Credibility
HARO (Help a Reporter Out)
– 55K+ journalists who need you! Monitor source requests for those relevant to your industry, expertise or personal experience. Build relationships with influencers while building brand awareness.
Media Updates
– Get info directly from the research teams as it's happening in a constantly-changing media landscape.
News Archive Search
– See coverage trends and placement.
Learn More
Request Demo
As my marketing and public relations firm grew, efficiency and time management became paramount. Researching individual reporters to find their contact information was quite cumbersome. Cision's media database allows us to quickly identify and procure contact information for reporters who are potential fits for our clients. As we've continued growing, Cision has become integral to how we deliver results for our clients. Cision has paid for itself and then some.
-
Eric Fischgrund,
FischTank